Liability insurance for your work in the pool industry involves specific risks that need proper coverage.  Arrow Insurance Service has been involved in over 2000 swimming pool related claims for service technicians, builders and manufacturers.  Here are a few examples:
PATIO COVER COLLAPSE DURING SOLAR INSTALLATION
concrete damage caused by pool chemicals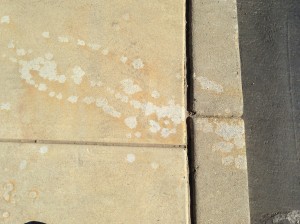 Swimming pool service techs routinely use sodium hypochlorite and muriatic acid to maintain water balance.  This photo shows concrete damage when a bottle leaks.  Surprisingly, many insurance policies written for swimming pool service techs exclude this type of damage.  Many of our policies include pollution coverage to cover damage like this.  Call us for details. 
---
FIRE MELTS EQUIPMENT
This photo shows a fire that started in at the pump basket, probably due to excessive heat caused by running the filter with a low water level.  An auto-fill device is a good solution to this potential problem.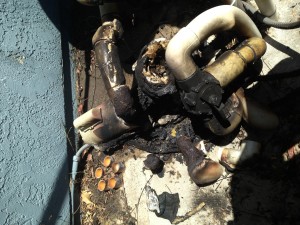 ---
Cracked PoOL Following draining
These photos show deck cracks following a popped pool in Florida in 2013.  It is important to take adequate precautions when draining pools, especially in areas know for high water tables.
---
POPPED POOL FOLLOWING DRAINING
This popped pool incident occurred in Fullerton, California. This was a residential neighborhood with no known hydrology issues. The pool was a total loss. Coverage for popped pool claims is excluded or very limited with policies offered by other insurance brokers and swimming pool service associations.
---
HILLSIDE COLLAPSE
The year 2005 brought year rains to Southern California. The loss of this residential pool occurred in Laguna Beach when a hillside failed. Note how the pool shell maintained its integrity. I wouldn't advise using the diving board, however. (This wasn't our claim, but the photos are quite dramatic, nevertheless.)