Considering Pool Inspections – Revisited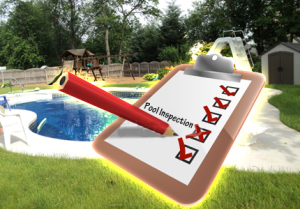 I recently spoke with a pool technician who was considering offering "free pool inspections" to real estate agents as a way to potentially get new pool service customers.  He told me that his plan was to do  "visual inspections" only, without testing for electrical or hydraulic issues.  He asked for my opinion, specifically how he could limit his liability in this new endeavor.
Regardless of what you call it, a pool inspection a pool must meet minimum standards.  In my opinion, that should include testing for electrical hazards and hydraulics, such as obstructed main drains and leaks.  A pool service technician will be responsible not only for misrepresenting the true condition of a pool, but also for damages in failing disclose hazards that he should have discovered.  These damages can be substantial, particularly if an injury is involved, or the home buyers contend that they wouldn't have purchased the home had defects in the pool been properly disclosed.
We had such a claim many years ago where the pool inspector failed to disclose a 15′ crack on the pool floor.  It was a windy day and he said the crack wasn't visible when he did the inspection.  The home buyer soon discovered the crack and sued for $255,000; the amount he claimed he overpaid for the house.  The case eventually settled after lengthy litigation for a substantial sum.
My client was lucky to have had professional liability insurance coverage to cover this claim.  Pool techs should have "professional liability" insurance before getting involved with inspections.  This coverage is different than the general liability policy carried by most service techs.  Premiums for professional liability insurance start at around $2000 annually.
Providing pool inspections can potentially provide a good source of income for pool techs so long as they are properly insured and competent with the many different aspects of pool construction.