Rains increase the likelihood of popped pools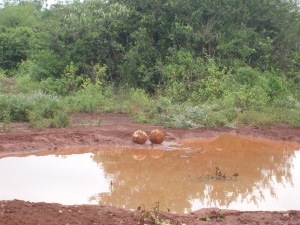 We've had some much needed rain lately in Southern California.  Unfortunately, last year's wildfires left hillsides barren with mudslides closing roads and creating significant damage to many homes.  The owner of one mud-damaged home called my insured today and asked him to drain and remove 3 feet of mud from the bottom of the pool.
Most pool techs know that draining a pool in rain saturated soil is a recipe for a "popped pool" – a condition in which the pool lifts from the ground due to the hydrostatic water pressure beneath the pool shell.  The damage can be extensive and in many cases the pool must be demolished and rebuilt.  Many general liability insurance policies exclude or limit the amount of coverage available for a popped pool occurrence so pool techs need to be very cautious.
In the instant case my pool tech refused to drain the pool, much to the dissatisfaction of the pool owner.  It's not always easy being a knowledgeable and professional pool service technician.