Swimming Pool Tech Cancels Service Over Unsafe Diving Board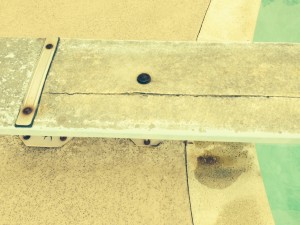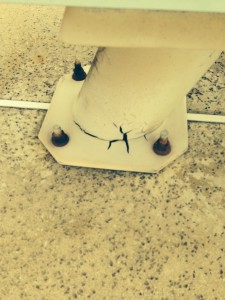 This was the unsafe condition of a diving board on a swimming pool my client is servicing.  Notice the cracks on the board and the support post.  My client called the husband and wife, spoke to them separately and made very clear that this was a huge liability issue.  The husband wants nothing to do with the board and agreed to remove it.  The wife, however,  said "Listen, I could get sued for a kid choking on a popcicle, for a kid cracking his head on a skateboard or anything else. So no, I am not going to get rid of our diving board.  Maybe I'll replace it with one I find online".  I told her that she is open to huge liability because someone could claim either:
– The particular board was too long for the pool, or too short for the pool
– The spring mechanism was set too tight…or too loose and gave it too much bounce
– The pool was not designed with this board in mind…it is not long enough…or not deep enough
– The board was not purchased through an authorized reseller
– No study was conducted to determine the fitness of this particular board for that particular pool
I did everything I could Ray, all to no avail.  In fact the more I tried to explain the risks, the more she dug in her feet!  I heard you speak at the Western Pool & Spa Show and I'm taking your advice:  I'm dropping this account!